Once you settle on the commercial ice machine that is best for your business it's time to consider what accessories you can purchase to go along with your machine. Different accessories can enhance the functionality of your appliance and make everyday operations flow more smoothly.
What is a Commercial Ice Machine?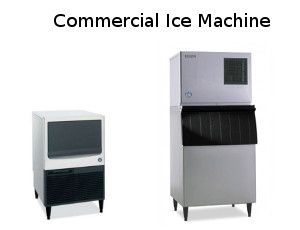 The definition of a commercial ice machine can be confusing at times. Typically, the term "commercial ice maker" is used to describe an ice machine which is designed and engineered for a commercial enterprise or business.
However, fishermen and individuals with home bars may use commercial ice makers in residential locations. As a result, the application of a commercial ice machine is not necessarily limited to commercial enterprises or businesses.
In most cases, commercial ice machines are made to a higher quality standard than residential ice machines. These ice machines are usually engineered to produce ice in constant cycles for hopefully many years. Additionally, most commercial ice machines produce a much greater volume of ice than residential ice machines. Residential ice machines may produce anywhere from 10 to 100 pounds of ice in 24 hours, while a commercial ice maker may produce anywhere from 50 to well over 2000 pounds of ice in 24 hours.
Beyond ice production, commercial ice makers are often designed to be far more serviceable than residential ice machines. Replacement parts may be readily available, and many service manuals can be found online.
Click this button below to view our Products.
Check out these various accessories to see how you can complement your commercial ice machine:
Simple ice machine accessories such as ice scoops, ice totes, and ice carts may seem trivial but provide an added convenience. They also help to ensure that ice does not become contaminated as it makes its way to the customer. Other accessories such as water filters and storage bins serve as important additions to your existing ice machine and are often a worthwhile investment.
WATER FILTERS
Some commercial ice machines come with water filters while other machines allow these filters to be attached after purchase. Water filters can prolong the life of your ice machine by helping to filter out sediments or minerals in your water that can cause hard water build up. In addition, a water filter will ensure that your ice cubes do not taste strange or have debris in them and customers will appreciate quality ice cubes. Water filters do not eliminate the need to regularly clean out your ice machine but do make the process easier.
STORAGE BINS
If your ice machine doesn't have any storage bins attached or if you desire to have ice in a different area of your business, an ice storage bin is an answer. An extra ice storage bin is a wonderful addition for individuals who own a large restaurant. Ice bins offer an added convenience for employees who may be stationed farther away from the kitchen. These bins come in a variety of sizes that you can choose from depending on the space you have to work with at your business. Some storage bins have antimicrobial agents inside in order to protect your ice against microscopic airborne particles or debris.
You want your ice machine to function to the best of its ability so why not couple it with different accessories that are guaranteed to fulfill all your ice needs. From scoops and water filters to storage bins Bush Refrigeration is happy to answer any ice machine accessory questions you may have.
AUTOMATIC CLEANING SYSTEM
Investing in a compact automatic cleaning system for ice making machines is not always possible nor necessary. First, the vast majority of modern machines already have such systems installed inside, ensuring an optimum hygiene by avoiding dirt accumulation.
In the second place, not every ice making machine models available in the market are compatible with the automatic cleaning systems, this due to their internal components and structure. This means that this accessory is exclusive for those who want it and can use it.
If you have an ice making machine and ignore if it has a cleaning system built in, check the manual and find out. If the answer is negative, it becomes really important to know if making a new installation is possible. Taking care of a proper cleaning process is necessary to guarantee the good shape of the components and an optimum performance all the time.
HEAT EXCHANGER
The science behind the heat exchanger is simple and the benefits it brings to ice making machines are huge. What this small component does is to transfer heat from one element to other.
In the case of machines for ice production at home or in commercial environments, what this component does is to reduce the temperature of the water coming into the system. This allows the machine to work with low-temperature liquid, naturally and safely reducing the water's heat with each cycle.
SHOVEL
The shovel is a quite obvious accessory that many ice making machine owners ignore. This is the simplest product on our list, but still, it brings great benefits to the users. The two reasons to use a shovel with an ice making machine are hygiene and convenience.
For those who manipulate the ice produced to be used in food and drink preparations, it's simply irresponsible and unconscious to directly use the hands. Contamination is a constant and failures in terms of hygiene happen when we transmit bacteria from our hands to the ice.
Then is convenience. It's senseless and uncomfortable to use the hands for moving ice from point A to B, especially when we know that there are other tools that allow us to do it more efficiently. Using the shovel is a solution for both problems because we can use ice cubes easier and without direct contact, something that may compromise hygiene.
How to Choose the Best Commercial Ice Maker [Buyer's Guide]
T : 1300 885 693 
E : info@ozcoolers.com.au
W : www.ozcoolers.com.au